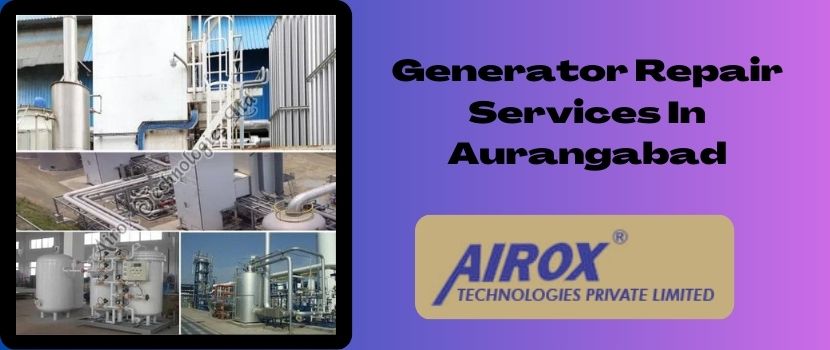 Maintaining a generator is crucial to a system's efficient operation. It reduces the possibility of mishaps, damage, and later, more expensive repairs. Also, regular maintenance ensures that the generator will function effectively in the event of a power outage.
If you don't keep up with your generator, problems and damage might start to occur. It may have a detrimental effect on how well it functions. Maintaining a generator regularly keeps it running effectively. It guards against problems or system harm.
Each commercial generator should have preventative maintenance performed at least once per year. Based on how the generator is operated, two or even three planned maintenance checks may be necessary each year. You should for Generator Repair Services in Aurangabad to guarantee the system's effectiveness and safety.
Risks of Not Maintaining Your Generator:
Maintenance work that is routinely planned is essential for your generator to operate at its best and for lowering hazards like -
● Dangerous Conditions -
Without routine maintenance, a commercial generator may provide safety issues including a carbon monoxide leakage. Carbon monoxide, a colourless and odourless gas that poses significant safety dangers, is emitted while industrial generators operate.
You should test the functionality of your carbon monoxide sensors in addition to servicing your generator. To make sure you are informed of any possible carbon monoxide emissions, we are doing this.
Accidents involving shock or electrocution are also more likely when a generator is not properly maintained. Mainly if the generator is damp or is encircled by a lot of moisture or water, you should do this.
While using an industrial generator in rainy circumstances, customers are required to guarantee that the generator undergoes routine maintenance. To reduce dangers, it should be shielded from direct moisture exposure.
● Expensive Repairs -
Regular upkeep put off might result in more costly repairs and difficulties. Routine medical treatment must be taken to save money. That results in more expensive repairs that may have been delayed or completely avoided.
Regular maintenance is necessary to identify minor concerns at the very beginning. It stops them from getting worse over time and harming the generator. Also, it gives the chance to take care of them when it will be less expensive and easier to fix them. You run the risk of needing more expensive repairs without routine upkeep.

● Lack of Power -
The inability of an industrial generator to produce electricity efficiently is one of the most evident problems that might arise. A generator's efficiency and total energy capacity may decline if it is ignored for a long time. For continued operation and to supply the electricity in the event of a power outage, an industrial generator requires regular maintenance.
Even if you might not require your generator's electricity right now. However, failing to maintain your system might seriously impair its ability to work if you require it.
You must be able to count on your generator to function properly and efficiently in the event of a power outage. When there is a power outage, maintenance can guarantee that your generator will deliver predictable, safe, and safe electricity.
Your commercial generator may be optimised by selecting the generator upkeep servicing plan that best suits your individual needs. The finest generator upkeep service plans provide a practical way to protect your machinery. It makes sure that it is operating effectively and correctly. A maintenance schedule for generators may maximise continuing performance and security and proactively identify problems.